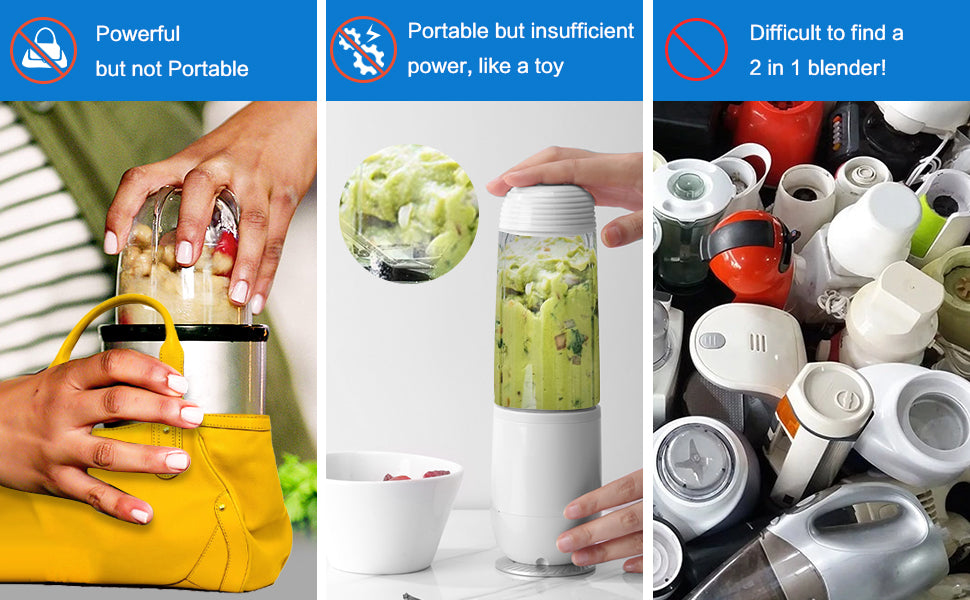 After Dismantling 187 Portable Blenders, We Finally Invented The Blender Bravo, Which We Believe Can Redefine The Blending Way !
The Trouble We Used To Face:
Bulky size & Difficult cleaning
Do you remember walking around with a 10-pound bottle in your arms? It's a painful memory.
Abominable noise
It is intolerable to have a beautiful morning broken by an ear-splitting noise.
Insufficient power
Most of the portable blenders only has the function of stirring, does not play any role in the processing of ingredients, insufficient power, like a toy
Extremely fragile
Most portable blenders last an average of only three months, and some even break after three uses. This is simply robbery! And 90% of the fatalities are due to leaking machines
We Need An Efficient, Durable And Quiet Portable Blender !
IT'S RIGHT HERE !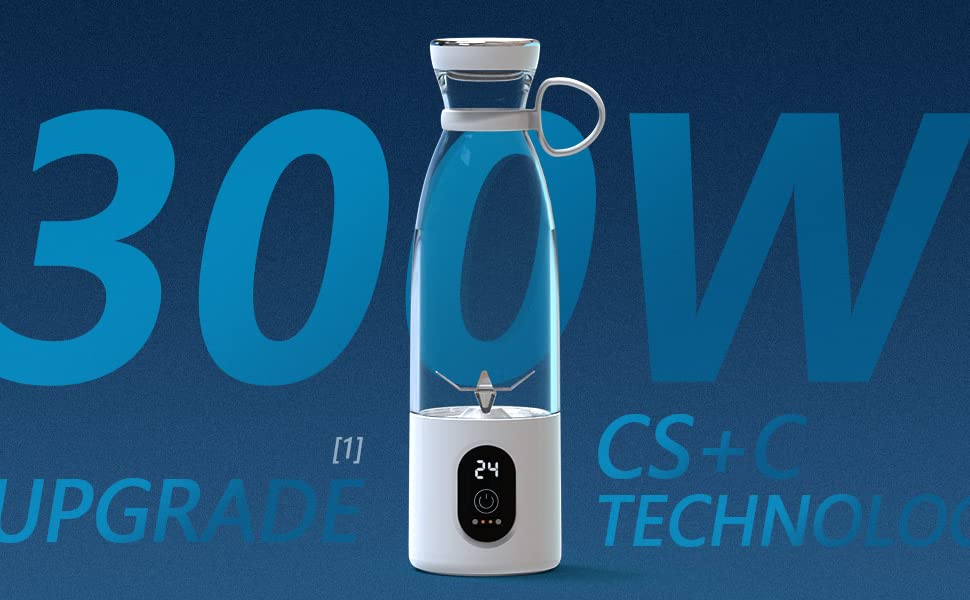 YOU ASKED, WE DESIGNED
Blending Has Never Been So Efficient Yet Lighthearted !
SUPERIOR PORTABLE POWER

(i) We stuffed a 300w "heart" into a 2lb "body"! The only portable blender that is as powerful as many home plug-in countertop blenders, 3X MORE POWERFUL than most USB personal blenders (ii) Leegoal Portable blender that is strong enough to crush ice cubes, frozen fruits, seeds, and nuts like no other portable blender on the market. (iii) Built-in 6000mAh rechargeable battery, which can be easily magnetically charged with an adaptor, power bank, computer, etc.

ERGONOMIC & COMPACT DESIGN

(i) Drink from the mouth of the container without having to use a straw, Feed on the bottom of the container with wider opening is much easier than other USB blenders (ii) You can take the blender base off so that you can use it like a compact and exquisite bottle and the motor base comes with a blade safety protective cover, . (iii)Fits in your purse or bag easily, great for traveling&A great addition to your gym bag

BLENDING WHEREVER AND WHENEVER

(i) Blends for 20 seconds and BOOM your healthy smoothie, Help to quit the bad habit of not eating enough during your days and this is a good way to get something in while you're on the go (ii) Increase by 56.3% of the vitamins and nutrients generated by the unique CS+C technology of this LeeGoal Smoothie blender (iii) One Key Fast Self-Cleaning, Just adding some water and double press the power button to start the self-cleaning mode,super easy and efficient

ULTRA SMART SAFETY PROTECTION

Our confidence in safety comes from the dual protection system and material. Leegoal single-serve blender is featuring intelligence, power-off protection, overload protection. In addition, it made with food-grade non-toxic, and PCTG material, as well as totally BPA-free, you'll fall in love with this powerhouse.

IMAGINE THE POSSIBILITIES

(i) outdoor barbecue, camping, tailgating, home bar, pool, beach, boating, picnic. slushies & milkshakes to-go for the kids; a small personal blender for serving healthy smoothies & shakes; blend your own baby food at home or on the go (ii) Great for Christmas Gifts,gifts for homebody,gifts for adults,office gifts,Thank you gifts

WHAT ELSE YOU SHOULD KNOW

(i) The USB magnetic charging port is IPX7 Water-proof to avoid any damage by liquid gets inside (ii) The small blender comes equipped with digital display indicators that display battery and working status after daily use, (iii) powerful FOOD GRADE stainless steel BLADES (iv) SAFETY: FCC CERTIFIED meeting stringent safety standards. (v)Throw out the mini ice cube trays that come with mini USB blenders. A large 18 OZ/535 ML jar makes multiple drinks per blend
6000mAh Magnetic Charging

 Built-in 6000mAh rechargeable battery, which can be easily magnetically charged with an adaptor, power bank, computer, etc., and it can support blending up to 38 times.

Water-Proof IPX7 

The whole body is equipped with the highest IPX7 water proof standard to avoid any damage by liquid gets inside

 One Key Fast Cleaning

One Key Fast Self-Cleaning, Just adding some water and double press the power button to start the self-cleaning mode,super easy and efficient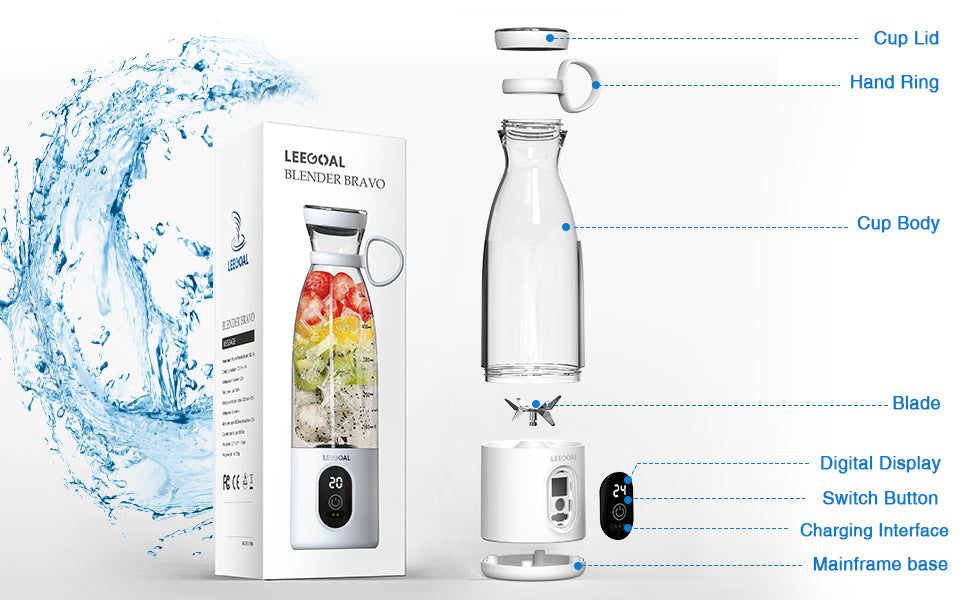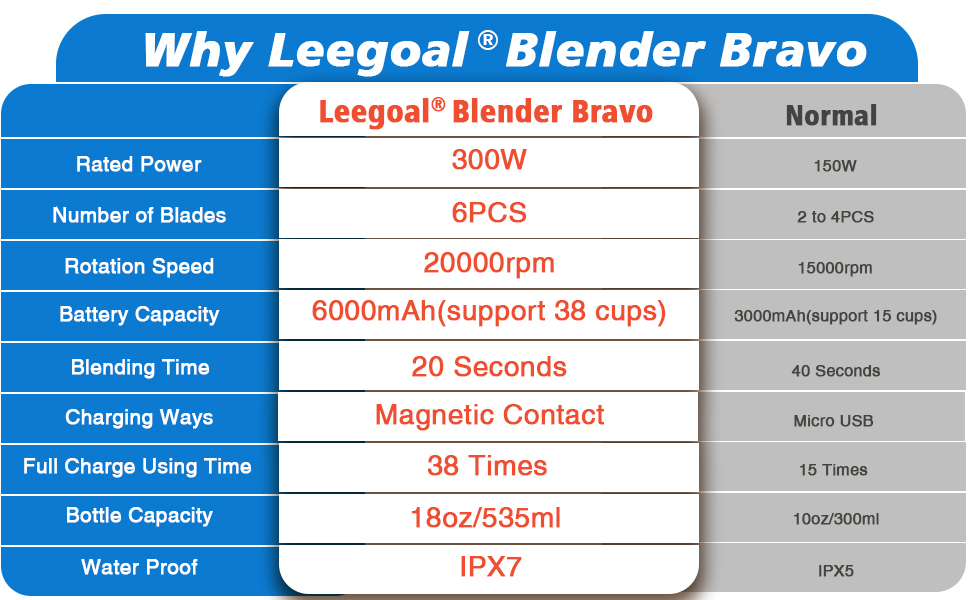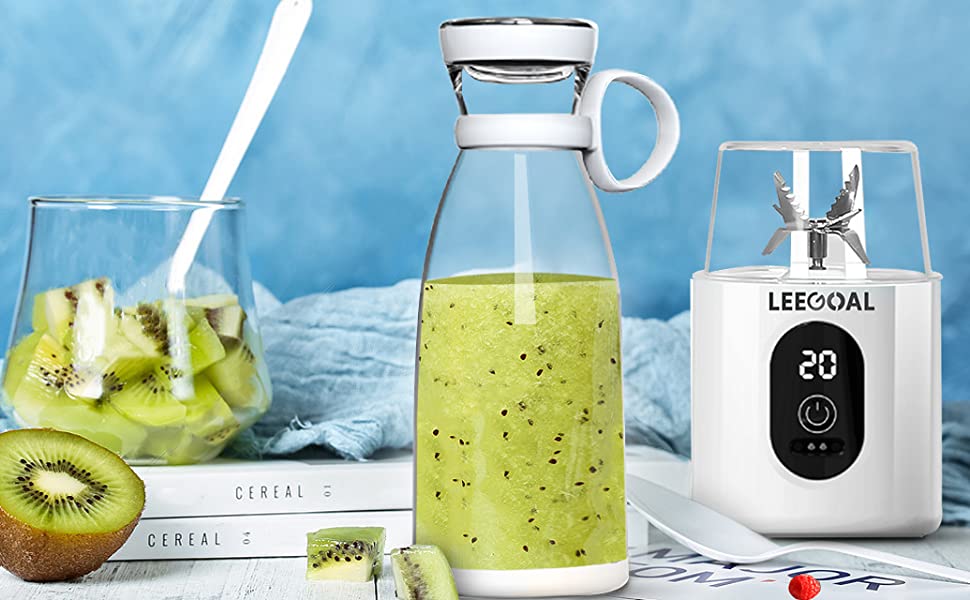 LEEGOAL Blender Bravo Packing List
Blender 

Bravo

1*Blender Bravo ( Solid Cup Lid)

1*Cup Bottom Cover

1*Charging Cable

1*Instruction Manual

1*Box

Blender Bravo_S

1*Blender Bravo_S ( Sports Cup Lid)

1*Cup Bottom Cover

1*Charging Cable

1*Instruction Manual

1*Box

Blender 

Bravo_X

1*Blender Bravo_X ( Solid & Sports Cup Lid)

1*Cup Bottom Cover

1*Blade Protection Cover

1*Charging Cable

1*Instruction Manual

1*Cloth Bag

1*Gift Box